Right from the beginning, we invest in you.
We utilise the 'dead time' within the recruitment process to ask you to complete some relevant eLearning, setting you on your journey.
After your offer of employment, you will be setup on our eLearning platform and asked to complete the first section, covering the fundamentals of social care.
You'll have classroom-based training scheduled for you to attend, all the while your DBS and references are going through. Once you've completed the first part of your induction training, you'll have the opportunity to get a head start on your future learning if you're willing. This training is required to be complete by the end of your probation so it makes sense to get ahead of the game if you can.
Once your employment checks have been finalised and you've shown commitment by completing your eLearning, you'll be invited to contract signing and you'll meet our Care Manager. From here, you'll be assigned a 'training buddy' and mentor to support you through the shadowing process. During shadowing, you'll be encouraged to reflect on your experience so far.
As you build confidence and working relationships with the people you support, you'll build a relationship too with your mentor and Team Lead as they guide and advise you through regular checks throughout your probation.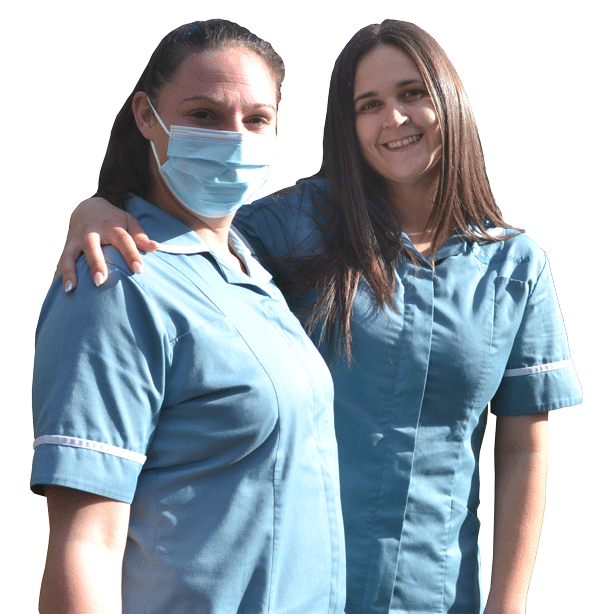 WeCare Wales have created an interactive resource - 'A Question of Care' - that gives you feedback on your values and skills, helping guide you into thinking about where you might need to develop your knowledge and ultimately decide whether to pursue a career in care.
The fact that you're considering it is one step towards you recognising your potential. If you have any questions at all about care work, please do get in touch with our friendly staff team who will be happy to help advise you on what might be right for you; whether that's applying for a role at Pineshield or elsewhere within the social care sector
Personal care is a big part of care work but it's not the only part of the job. We've put together a resource to help you understand what kind of personal tasks you'd be expected to undertake as part of your role; particularly useful if you've not worked in care before.
Follow the link to check out our interactive page that gives you more information on each element of personal care. If you have any questions or concerns, please do get in touch
Your employment contract is an important document, but it shouldn't be scary! We've created a summary document that lets you know what's included in your contract so you can become familiar with everything before signing. We encourage you to read your contract in full before you sign, and you'll have the opportunity to do so once you've been invited to contract signing after successful offer of employment.
We often get asked whether recruits need to be drivers. The reality is that access to your own transport means for more flexibility in a field of work that is centred around travelling from one home to the next, however just because you can't drive doesn't mean you don't have the skills to be a brilliant care worker; we recruit based on values and attitude.
If you can demonstrate adaptability and flexibility in how you will make every effort to attend your calls through conversations with us, and committing to particular ways of working, we will be sure to give you every opportunity to succeed.
Find out more in the vacancies section
If you are a driver, you may be wondering what you need;
Access to vehicle you can use for work when required
Business class insurance (talk to us about this to find out more as this is often included in standard insurance packages)
Valid tax and MOT to ensure your car is legally roadworthy
You'll also need to present us with your valid driving licence, registered to your current address. We need this information to ensure we can evidence we are employing staff who are legally allowed to drive and are providing a safe environment for those we support. We can help you to easily check if your car is roadworthy with some simple online forms available to the public for free so please don't worry if you don't have the information to hand
We require specific forms of ID in order to apply for a criminal record check, or 'Disclosure and Barring Services' (DBS) check. This ensures that we can provide evidence that we have taken every step possible to protect the people we support and aim to provide a safe environment for the individuals who need our services.
It's important to note that having past convictions will not automatically reject you from our recruitment process. We will of course have to carefully consider any offences that are linked to the work that we do and the people we support. 
What is important is to be open and honest when applying - our application form and interview questions allow opportunity for this to be discussed in a confidential manner – this helps us to avoid wasting any of your time and allows us to get a better picture of your character.
Upon receiving your DBS check, if there are listed convictions, we will ask you to provide a statement for each conviction and will complete a risk assessment to determine whether we can take the application further. Each case is dealt with separately so please do not let this be a barrier to applying.
If you have any questions about this, please do get in touch. We work with people every day and we know that people can change, and that people can make mistakes. We are very keen to employ people who have the right values and do not judge people based on their past.
The documents that are ideal are:
Passport
Birth certificate
And driving licence
Other documents that are useful include:
Utility bill (last 3months)
P45 or P60 (last 12months)
Marriage certificate (note that if you have since divorced we will need evidence of this too)
For a full list of ID if you do not have the documents above, please follow the link to the gov.uk website.
It's also important to note that we will require 5years of address history, so if you've had a number of addresses over the years, please do spend some time trying to remember at least the postcode(s) and house numbers of the homes you've lived at so that we can put them into the system. We'll also need you to remember the month and year you moved from one house to the next, so please come prepared. If you're concerned about this, please talk to us.
If you have ever changed your name through marriage, deed poll or other means, we will need you to provide evidence of such changes too.
Social Care Wales have set expectations that all care workers working in Wales must be registered as professionals, much in the same way as GP or nurse is expected to.
To find out more about care worker registration, follow the link to our dedicated page 
We offer a wealth of company benefits that all employees are entitled to. Follow the link to our company benefits page which talks about them in detail